Home » Posts tagged 'hair thickener'
Tag Archives:
hair thickener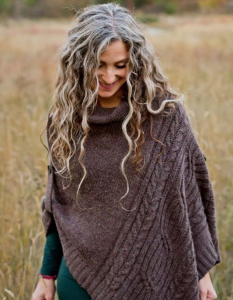 Not all hair loss is irreversible. Sometimes, the foods we eat, the way we live and the amount of stress we deal with on a daily basis can effect the look and feel of our hair.  While some conditions, including simply getting older, will mean that some hair loss is inevitable, keeping well and adding extra nutrients to our bodies can help to prevent or delay hair loss however old we are.
If you are concerned about your hair thinning, excessive hair loss or bald spots you should visit your doctor or dermatologist to rule our any underlying causes or conditions.  If however, you are just looking for natural ways to improve the look and condition of your hair, try these 7 natural ways to prevent hair loss today.
1.Eat A Healthy Diet
We all know that enjoying a balanced diet can help prevent weight gain and certain medical conditions like high blood pressure or diabetes, but we often overlook the fact that they way we eat also effects our hair.  Fresh fruit and vegetables, pulses and lean meats all include a variety of wonderfully beneficial, naturally occurring nutrients.  These include Iron, B Vitamins, Copper, Zinc, Sulphur and Vitamin C, which are all essential for healthy looking hair. Leafy green vegetables, blackcurrants, blueberries, oranges, strawberries and sweet potatoes are all readily available and do wonders for you hair.  So too does fish that is rich in Omega-3, like salmon and sardines.
2.Stay Stress-Free
Whilst thats not always entirely possible, ensuring that you get enough rest and "down time" from the strains of day to day life can help to prevent the damaging effects of stress on our skin and hair.  Stress promotes hair loss, and can lead to conditions like Telogen Effluvium, where the roots can be pushed prematurely into a resting state, causing hair loss and thinning.  Usually seen in women after pregnancy, extreme weight loss or a "shock" to the system, the condition doesn't last forever and the hair will eventually grow back and fill out in time.
3.Look After Your Scalp
We spend much of our lives worrying about the way our hair looks, but then forget to consider the health of our scalps.  A nourished scalp is a healthy base for hair follicles to grow and flourish.  A scalp that is suffering from dandruff, infections or lesions, will cause hair to "die" early and fall out, leading to significant hair loss. Remember to treat your scalp well, and repair any damage using the appropriate medication.
4.Avoid Over Medicating
This is not always possible as some medications that can cause hair loss are actually vital for easing certain conditions and diseases.  Some acne medications, antibiotics, anti-fungal  creams, antidepressants, oral contraceptives, blood thinners and cholesterol-lowering medications however, can display hair loss as a side effect of continual use.  If you need to take your medication then that is clearly a priority.  But in some cases, natural alternatives can prove to be just as effective, without hair loss side effects as an additional concern.
5.Be Gentle With Your Hair
Years of constantly pulling and poking at our hair to achieve fabulous looking hairstyles will damage the hair over time. We know it is important to look and feel great, but too much over working of the hair can lead to excessive hair loss.  Losing a few strands here and there is normal and part of the natural cycle of the follicles, but continual loss, or clumps after brushing could be caused by traction alopecia, a direct result of over-styling or over-brushing your hair.  Try to keep you hair loosely tied back, or hanging free, and avoid tightly pulled ponytails or hairstyles secured with elastic hair bands.
6.Avoid Using Too Much Heat
Hair straighteners, curling wands and other electrical styling aids all heat the hair to achieve their desired look.  While occasional use will probably not make a big difference to your hair, daily or continual use will be detrimental to it.  Heat causes hair to burn, snap and split and can lead to hair thinning or even hair loss over time.
7.Add Some Instant Volume When You need To 
If thinning hair is causing you concern about the way you look, you can use a specially designed product to help boost its appearance, as and when you need to. An Instant Hair Loss Concealer for example, coats each strand to give the appearance of fuller and thicker hair, without weighing it down.  This is a temporary measure that can be used as frequently as you need to.  Easy to rinse out by simply using shampoo, products like RESTRAND Instant Hair Loss Concealer allow you to maintain a healthy regime for your hair, with the addition of instant volume and coverage, as and when you need it.
Losing you hair can make you feel wary and self conscious. Many of us don't really worry too much about our hair until we start to lose it, making us all the more aware of the toll that time can take on our looks.  Products like the Instant Hair Loss Concealer from leading UK brand, RESTRAND, can help to enhance the look and feel of your hair, giving you a real boost in confidence and helping your hair to once again become your crowning glory.
Not convinced that an instant hair loss concealer will work for you?  Here's 5 great reasons why it will:
1.  RESTRAND Hair Loss Concealer offers a fast, effective solution to thinning hair
Because you only need to spray the concealer in the areas that are of concern to you, there is no need to worry about full head applications.  Simply place the nozzle a short distance from your head, and build up the product on the existing hair until you are happy with the overall appearance.
Home hair loss remedies don't come any easier to use than RESTRAND's Hair Loss Concealer, and the formula can be used as often as you feel you need to.
2.  RESTRAND Hair Loss Concealer offers a perfect match for your hair colour
The unique Hair Loss Concealer comes in a wide variety of colours, meaning that you will have no problem finding the right shade to match your existing tones.  Once applied, the product offers an invisible solution to users looking to enhance the appearance of fuller, thicker hair or to cover up bald spots.  The formula blends with and matches completely with your hair, so you won't have any obvious patches or mismatched colour spots.
If for any reason you are unsure of which colour to choose, our helpful and friendly team are on hand to help advise you.
3.  RESTRAND Hair Loss Concealer offers durable protection
Designed to withstand the rigours of daily life, the formula can remain in your hair until you choose to wash it out.  Easy to apply and simple to remove using shampoo and water, RESTRAND instantly changes the appearance of your hair for as long as you need it to.
4.  RESTRAND is suitable for both men and women
Whatever your style, age or hair type, RESTRAND offers you a fast and effective way to look and feel young again.  The proven formula is suited just as well to short hair styles as it is to longer ones, and given the wide choice of colours available, you should be able to find a seamless match for your existing colour.
5.  RESTRAND can take years off your appearance in just a few moments 
Turn back time with an instant hair loss concealer that really works.  We are the UK's leading supplier of Instant Hair Loss Concealer products and have helped many, many satisfied customers to feel great again.  A full head of hair will not only make you look younger, it will also help you feel confident and reinvigorated, once again.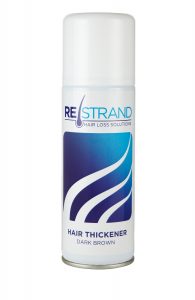 If we looked back just a decade ago, the lion's share of males who had a receding hairline were middle-aged men. However, in recent years, boys as young as 16 are reported to be seeking advice following worries of a receding hairline. This is backed up by the fact that doctors in India have cited that hair loss among young men is steadily increasing.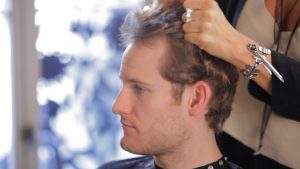 This is not an issue that seems to be fading, and now the issue is so bad that male hair loss was the big topic of a workshop that 300 dermatologists from all over India sat in on. The people who are at the top of their game all sat and discussed treatments such as hair transplants, laser hair removal and anti-aging therapies, with many voicing concerns that Male Pattern Baldness is showing signs of advancing by at least a decade. Quite shocking, if you weren't already aware, don't you think?
Head of Dermatology at Ahmedabad Civil Hospital, Dr Bela Shah, spoke to the India Times at the time, saying: "Earlier, one would get patients showing signs of baldness in their late 30s or early 40s. Now, we get teenaged boys, some still attending school."
So, what is at the root of the rise in hair loss among young men?
The scientific reasoning behind this issue is that hair starts to thin and the hairline recedes as a result of levels of dihydrotestosterone (DHT) rising. This hormone imbalance is down to genetics, so there's not much you can do about that. However, it can be enhanced if you are under stress because this sends a message to the genes triggering hair loss to occur at a younger age.
Is there a way to overcome Male Pattern Baldness?
The increase in the volume of young men who are going through hair loss has caused many to suffer from anxiety and reduced levels of confidence and self-esteem as a knock-on effect. It has even been said to be ruining the chances at marriage for some. Subsequently, there has been an increase in interest of methods for overcoming the issues these men are suffering from.
One of the ways that a lot of males look to solve the problem is opting for hair transplant surgery. However, this can be an expensive solution, and thanks to today's technology, there is a host of other techniques and products that can be used to help men deal with their loss of hair. For example, hair thickener products can do wonders, and this is an option that is perfectly discreet. This organic, coloured hair thickener can be sprayed directly onto the hair giving the user instant thickening!
How does this work?
Hair Thickener works by covering the scalp and hairs with a fine layer of liquid powder which bonds to the hair strands, thickening them. This results in the appearance of a thicker, fuller head of hair. What's more, for those who do use the hair transplant route, once any scarring has healed hair thickener can be used to complement the end-product.
If you are one of the thousands of men who are silently continuing to live their lives unhappy with their appearance, then why not try a thickening spray and see what the results can do for you?