Home » Posts tagged 'thinning hair'
Tag Archives:
thinning hair
A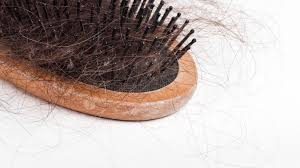 s we age our hair can become weak and brittle, resulting in hair thinning, hair loss and even bald spots.  This can be just a normal side effect of ageing, but in some cases it can be caused be a medical condition, an unhealthy lifestyle or the continued use of certain medications.
If you are suffering from hair loss that is not age related, you may be concerned as to why this is happening.  A trip to your doctors, dermatologist or trichologist (hair specialist) will help to ease your concerns, but as a rough guide, here are some of the most common conditions that can cause hair loss.
Hereditary Hair Loss
Sometimes the way our body behaves is literally just a consequence of our genetic make up.  Hereditary hair loss is medically known as androgenetic alopecia, or male pattern baldness, and is usually the most common cause of hair loss in men. The gene can be inherited from either side of your family, and you are more likely to suffer if both your parents exhibited symptoms. The condition can start in your 20's and can spread across the entire scalp leading to large patches of baldness.
Hyperthyroidism
The thyroid gland produces hormones that regulate the body's metabolic rate, heart and digestive function, amongst other things. If your body does not produce enough of the hormone responsible for metabolism, you can develop hypothyroidism, which will start to effect the skin, hair and nails. The condition can cause dry and brittle hair, with obvious signs of thinning over time. These symptoms are particularly prevalent in women over 50 years of age. The goods news is that hair can grow back fully after receiving treatment for hyperthyroidism.
Telogen Effluvium
Unusual, but not uncommon, this phenomenon is often reported after pregnancy, major surgery, dramatic weight loss or extreme stress.  Large amounts of hair are shed on a daily basis and symptoms usually start to appear within 3 months of a stressful event. It can also be the side effect of some medications.  In most cases the hair loss will start to slow and you can expect your hair to regain its former glory over time.  If medication is the culprit, talk to your doctor about alternative solutions.
Lupus
Lupus is a chronic autoimmune disease in which the body's own immune system attacks healthy tissues. If often attacks women during their childbearing years and symptoms include extreme fatigue, headaches, mouth ulcers, and painful, swollen joints and hair loss. You may find that you simply lose more hair when brushing, or your hair might begin to come out out in larger clumps. Loss of eyebrow, eyelash, beard and body hair also is possible. If your hair loss is accompanied by any of these symptoms, make an appointment to see your doctor to rule out Lupus.
After treatment for the condition, hair loss should slow down and eventually stop completely.
Iron Deficient Anaemia
Iron deficiency anaemia is caused by low numbers of red blood cells and is usually caused by severe blood loss or a poor diet.  If you are losing hair, or you have noticed that it is not growing at its normal rate, you may want to have your iron levels tested.  Taking iron supplements and changing your diet to include more iron-rich foods, including red meats and green vegetables, can help to slow the hair loss caused by anaemia.
RESTRAND For Hair Loss
Whatever the cause of your thinning hair, it can make you feel far less confident. RESTRAND Instant Hair Thickening Spray can instantly transform the way you look and feel about your hair.  Developed by experts to give the appearance of thicker, fuller hair, RESTRAND Instant Hair Thickening Spray is available in a variety of shades, and is applied in seconds, providing a completely undetectable solution to hair loss.