Going bald or losing hair is a natural part of growing old.  Whilst it is nothing to be ashamed of, some people do not feel comfortable as they start to thin out on top.  With confidence receding as quickly as your hairline, it is totally normal to look for hair loss concealers that can help to disguise your fading follicles.
Here at RESTRAND, we understand just how wonderful a full head of hair can make you feel.  You will look and feel younger. Our brand leading hair loss concealer can help to hide any bald spots or areas of thinning, leaving you feeling youthful and confident once again.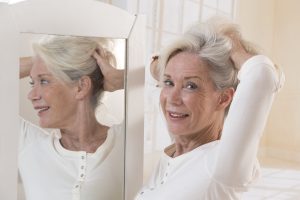 Don't Hide, Disguise!
Losing your hair can make you feel reluctant to get dressed up, and may even see you hiding away from social gatherings or special occasions.  With our uniquely formulated hair loss concealer, we can give you back the confidence you need to live life to the full again.
As a quick and easy temporary cover for thinning hair or bald patches, our hair loss concealer allows you to apply a perfectly matched formula to the existing hair, giving seamless coverage for the whole head.
Disguising any area that makes your feel uncomfortable will instantly give you the boost you need to feel good about your hair.
How Does Our Hair Loss Concealer Work?
Our proven scientific formula gives a fine coating to each hair, which can be applied and built up to your exact requirements. Our hair loss concealer is available in a wide range of colours, you should have no problem finding the perfect tone to match your shade.
Applied to the hair using a spray, the preparation is so easy to use that it will quickly blend in to your everyday routine.  Or, save your hair loss concealer for times that require that extra "wow" factor.
Use RESTRAND To Help Rebuild Your Confidence
RESTRAND hair loss concealer will instantly make your hair look thicker and fuller, helping to conceal areas of hair loss or thinning hair.  Scientifically proven, the formula contains an undetectable liquid-talc, which dries almost instantly to cling to your follicles and thus alleviating the appearance of fine or thinning hair.
The result is a new, completely undetectable, fuller head of hair.  No one need know that you are using this innovative hair loss concealer, as the colour will match perfectly to your existing shade. In fact, we offer more colours and shades than any other hair loss concealer on the market today, so you will find the exact colour to perfectly suit your needs.
Don't feel discouraged by thinning hair, or ashamed of your bald patches.  RESTRAND can breathe new life into your tired hair and give you back the thicker and fuller locks you so desire, quickly and easily.