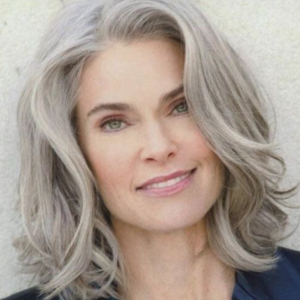 Over time, hair can become very thin and brittle, and you may mourn the loss of your glorious thick locks.
A healthy diet, gentle hair care products and keeping well hydrated can all help you hair to look and feel that little bit younger once again.  Whilst nothing can completely prevent the march of time, and the inevitable effects it will have on your hair, here are some great ways to treat it kindly in the meantime:
1. Start with your scalp
Your scalp often gets forgotten about when it comes to the condition of our hair.  The scalp is simply an extension of your skin, and therefore requires the same amount of pampering as your face.  Choosing shampoos or conditioners that contain Vitamin E, Panthenol oil or coconut oil help to increase the suppleness of your scalp, making it feel smoother, and healthier all over.
2. Choose A Shampoo With Anti-Ageing Properties
Older hair can feel limp and lifeless, but it can also become weighed down with the use of too much shampoo.  The natural loss of proteins and lipids over time, can leave hair looking dull and feeling coarse.  Put some life back into your bonnet by choosing a shampoo that is designed to replenish lost nutrients, whilst adding subtle volume.
3.  Try An Instant Hair Thickener
You can purchase products that will instantly give your hair the appearance of being fuller and thicker all over.  These are perfect for anyone suffering with thinning hair or looking to hide hair loss or cover bald patches. Instant hair thickeners come in a range of colours to seamlessly blend in with the rest of your hair.  RESTRAND Instant Hair Thickener is the UK's best selling Hair Thickening Spray.  It gently coats and matches each hair to give you added texture and thickness, cleverly covering bald patches and scalp show-through until you choose to shampoo it away.
4.  Change Your Colour
A new colour can add new life to ageing hair.  As we age, cell renewal slows down and our complexion becomes duller and paler, causing subtle changes in our skin tone.  This means the colour of your hair will also start to look different.  Choose subtle tones, not too far removed from your natural colour to help enhance shine and add light reflecting pigments to your hair.  A new colour will not only make your hair look grand again, it can also make you feel 20 years younger!
5.  Keep Visiting The Hairdresser
Thinning hair, or bald spots may make you feel concerned about going to the hairdresser.  But actually, you should still make regular trims a priority as keeping the hair in good condition eradicate spilt ends and will keep your hair looking well groomed and frizz free.  Your hairdresser will understand your concerns about hair loss, and will be gentle with you.
We all get older and our hair, face and bodies change with age.  Embrace the changes and live your best life with the help of RESTRAND Instant Hair Thickener.