If you have just looked in the mirror and noticed that you appear to have an emerging bald patch, you're probably wondering what to do for the best. For some people, realising that they are losing their hair is a very distressing time, and look for solutions to rectify or at least disguise the problem. If you have discovered that you have thinning hair, there are a few things that you should try.
Avoid Making it Worse
If you've noticed an emerging bald patch, you should try to avoid exacerbating the problem. Stopping wearing tight fitting hats is a good move since they can restrict the ability of the scalp to breathe. Avoiding tight hairstyles, braids and ponytails is also vital as they can weaken hair at the roots. It's also important to stop smoking, eat healthily and try to reduce stress as all of these can increase the rate at which hair thins.
Use the Right Products
Heavy gels and waxes can weigh the hair down and make a bald patch more obvious. Instead, switch to volumising powders and thickening shampoos which can install additional volume in the air and disguise the thinning. A hair thickening spray is an excellent temporary solution to bald patches, since it can quickly and easily create the illusion of thicker hair, helping to restore the user's confidence.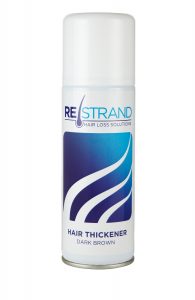 Use a Hair Dryer
While you may be concerned that using hot air on your hair might cause further damage, in fact a hairdryer is a great way of reducing the visibility of your bald spot. Air drying allows all of the hair strands to fall down straight, emphasising the problem, while towel-drying pulls at the roots of the hair causing further breakage. Using hot air will separate and lift the individual strands to give the illusion of extra thickness.
Have a Hair Cut
It may sound counter-intuitive to have a haircut when you are already worried about losing your hair, however a good hairdresser can help to make a bald spot less obvious. Talking to a barber or stylist about the right style for you can work wonders to improve your appearance.
Speak to a Professional
If you are looking for a medical approach to your bald patch, you should go and talk to your doctor about potential pharmaceutical solutions. There are pills and medications which may be able to help restore thinning hair, although it is important to be aware that they may have unwanted side effects. There are also other more drastic treatments to consider including laser therapies and hair transplants which could be the solution to your problem.