Home » Posts tagged 'Trichotillomania'
Tag Archives:
Trichotillomania
While genetic pattern balding may take the stage as the most common cause of hair loss, it is definitely not the only one. It is important to be aware of other potential causes of hair loss, especially if you are beginning to consider a treatment plan that can cost a lot of money, and take a considerable amount of time to show any positive results. Of all the possibilities other than pattern baldness, stress is one of the most common factors that can make one lose hair. This can be both good and bad news depending on how you look at it. Although identifying sources of stress and then figuring out how to eliminate it can potentially reduce the stress-related hair loss, and sometimes even reverse it, changing our lifestyles and outlook on life can be a little difficult sometimes.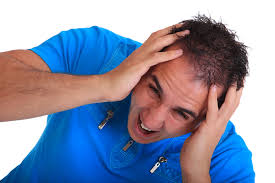 There are three types of stress-related hair loss and each is unique in its own way. Telogen effluvium is the most common stress-related condition causing hair loss. When a person suffers from a significantly stressful event, the body can send signals to the hair follicles which sets them into a resting phase. When this happens, the person is unaware that any damage has occurred, but after a few months they will experience a high degree of hair loss as the follicles 'let go' of the hair. While telogen effluvium is a passive bodily reaction to stress that often flies under the radar, there is another common cause of hair loss from stress called Trichotillomania. People who suffer from this type of stress-related hair loss actually pull their hair out when they are feeling stressed or depressed. While it may seem that this would be an easy condition to treat, people who suffer from this condition generally act on irresistible urges which are difficult to control. The third, and final, condition causing stress-related hair loss is called Alopecia areata. Alopecia areata is a far more serious condition which is triggered by intense stress. This condition causes the body's immune system to attack the hair follicles making them fall out in large quantities in a short amount of time.
The most difficult part about suffering from hair loss caused by stress may be the hair loss itself, but it is more likely that stress may be a more important thing to get a handle on. It is generally understood that stress is a major cause of many illnesses, and if a person is suffering from enough stress to make their hair fall out it is likely that they may be in line for other stress-related problems as well.
To reduce stress, there are a few things that everyone can do. A combination of a good diet, plenty of sleep, exercise, and leisure activities is necessary for healthy living. If any of these are missing from a person's life, there is a very good chance that they are experiencing stress at levels beyond what would normally be considered healthy. It is also a good idea to review any medications as many of them have serious side effects that can lead to both mental and physical stress. By managing stress, there are so many health benefits that come along with it, and maintaining healthy hair is one of the things that people can enjoy.
If hair loss is causing you stress our hair loss concealer provides an instant solution.