Home » Posts tagged 'proteins'
Tag Archives:
proteins
If you have not yet heard of either 'FOXO4-DRI' or 'senescent cells' we would not be surprised as these two terms have not been used as part of the discussion on hair loss until very recently. For many years, the technology and medicine involved with treating hair loss has been at a bit of a standstill, with no big medical revelations having occurred for a very long time. The same treatment options that are in use today have been around for decades. There have indeed been advancements in the effectiveness of those treatments, but when it comes to ground-breaking new methods and new ways of approaching treatment options, there has been little progress.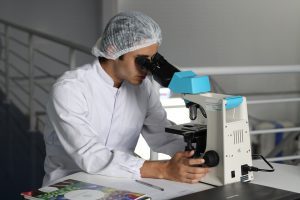 The fact that new technology and scientific knowledge connected to the topic of hair loss is a bit slow-coming, means it is always very exciting when we hear of a promising new study, and that is exactly what this article is about. A large, multi-faceted scientific project has been underway involving scientists and researchers from many countries. The study has been a central work of several universities, and was funded by a range of interested parties. This team of scientists has uncovered an amazing new technique that has been found to remove inactive aged cells which effectively reduces and reverses the ageing process, which in turn helps treat hair loss.
Before you get too excited about this study it should be said that the work is currently only being carried out on lab mice, but the results seem to be very promising. Hair loss isn't the only positive from this new modified protein either. It has been found that the inclusion of the protein to areas suffering from tremendous stress – such as cell areas affected by radiation treatment – was largely unaffected by the stress. This could point to many different types of hair loss treatments in the future and these could be varied enough to be effective no matter what the cause of the thinning hair turns out to be.
If the cause of hair loss is genetic, the research shows that these proteins may actually be able to do two things. One is that they can revitalize the aged areas of the scalp that have been negatively impacted by the metabolite dihydrotestosterone, known as DHT, that builds up and kills off the hair follicles. Another is that the modified proteins might actually help stop all future communication between the cells that 'don't agree' making the solution permanent, which is something that current products cannot yet provide.
If the cause is more lifestyle-dependent, the possibilities of what these modified proteins can provide seems almost endless. If the proteins can be introduced to areas that have seen stress, but are not likely to see that same stress in the future, damage that has always been viewed as permanent may be seen as a curable condition in the very near future. The same goes for dietary issues. Once the diet has been modified to promote healthy hair growth, the affected areas can be treated for a near permanent solution.
While these are just theories at the moment, it is nice to think that our great minds are getting closer to a cure for baldness. It has been a difficult subject for people everywhere, and finding a cure would mean the world to so many of them.
For an instant solution to hair loss we recommend our best selling hair loss concealer.