Home » Posts tagged 'heat and hair'
Tag Archives:
heat and hair
January 9, 2018 / Leave a comment
We all like our hair to look good. For many of us, that means pulling out the hairdryer to get our hair dried quickly. While there is nothing wrong with correctly blow-drying your hair, there is a lot that can go wrong if you're not drying your hair correctly.
Keeping your hair safe when drying is very important. Prolonged heat exposure can cause a lot of problems and elevate existing conditions. From increased hair shredding and split ends, to a dry and lack lustre appearance, heat damage is very unhealthy. If you're already suffering from hair loss, then taking care of your hair whilst drying, and avoiding damage from heat, is of the upmost importance.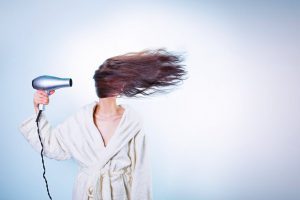 Our Top 5 Tips to Avoid Heat Damage
One of the best ways to avoid heat damage, is to let your hair dry naturally. However, this just isn't a viable possibility for many people on a busy schedule. To help you keep your hair healthy and manage the potential risks of heat damage, we have put together 5 top tips for how to stay safe when drying your hair.
Monitor the Setting on Your Hairdryer– If you're in a rush in the morning, it can seem like a good idea to turn your hairdryer up to max, but this can cause a lot more damage than you might think. Intense heat, especially on already thinning hair, can cause damage very quickly. Identifying which setting is right for your hair, and investing in a hairdryer designed for fine or thin hair, can be very beneficial.
Take Your Time– Nobody wants to spend hours drying their hair, but taking your time and practising a bit of patience, can pay off when it comes to the quality of your hair. A lower setting and a slightly longer process, will keep your hair in top condition.
Choose a Hairdryer with a Low Wattage– It's not just the brands, style, or colour, of a hairdryer that varies, but also the wattage. Professional hairdryers often have a much higher wattage for a quick dry, avoiding these is a must for the ongoing health of your hair.
Avoid Heat When Your Hair Is Dry– Drying wet hair incorrectly is damaging, but more so is heating up already dry hair. This often occurs when you dry your hair one section at a time, instead of slowly drying all your hair at once. For healthier hair, dry slowly and methodically, not one section at a time.
Pick the Right Products– The right products are vital for hair protection, whether you are blow-drying, straightening, or curling. Over-doing it on products can be damaging, but finding one or two that can help to provide a barrier between your hair and direct heat, will minimise the affects of heat damage through drying.
If you have started to suffer from hair loss or thinning hair, there are many fantastic products available. Using a Hair Loss Concealer Spray in conjunction with a proper hair care routine, can help you to regain the feeling of looking good and feeling good. Keeping your hair safe while drying, and investing in the right concealer products, are easy ways to manage hair loss in your daily life.