Home » Posts tagged 'dandruff'
Tag Archives:
dandruff
Many people believe that dandruff is a dry skin problem, however in fact it is caused by an oily scalp. There are many causes for those little white flakes that can be so embarrassing, including hair products which irritate the scalp, disturbances to the pH balance of the skin due to medical problems or hormonal changes, or poor hygiene with too infrequent shampooing which allows dead skin and oils to collect on the scalp.
If you are experiencing a dandruff problem, there are several different treatments that you can try to eliminate the problem.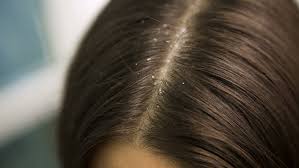 Detoxing From Products
If you regularly use a lot of products on your hair, it's time to give it a rest for a while. Stopping using styling products will enable your scalp to take a break and the breathe freely without gunk being loaded onto it.
Hairbrushing While Showering
One of the main causes of dandruff is failing to rinse the hair thoroughly in the shower, thus allowing a build-up of conditioners and shampoos on the scalp. Use a shower friendly hairbrush to brush through your hair when you apply conditioner so you can ensure that it is evenly distributed rather than gathering at the top of the head.
Blow Dry Before Bed
If you go to bed while your hair is still wet you could find that you get fungus growing on your scalp, and this often takes the form of dandruff flakes. If you blow dry your hair before you sleep you could eliminate the problem completely.
Use Tea Tree Oil
While adding oil to a scalp that is suffering from dandruff may sound like a strange idea, tea tree oil is an ideal product to use since it has both natural antibacterial and anti-fungal properties and this will help to reduce any build up on the scalp. Leave it on the hair as a mask for an hour and then rinse out.
Use Dandruff Shampoo
Although some people are concerned about what kind of effect dandruff shampoo might have on their hair, however it is a good choice for anyone who wants an effective way to remove those tell-tale flakes. A good quality nourishing dandruff shampoo and condition will eradicate the problem quickly, often within just a couple of days.
Make sure to leave the shampoo on the head for around 5 minutes before you rinse as this will give the dandruff-destroying ingredients time to work. The active ingredients you should check to see if your chosen product contains include ketoconazole, an anti-fungal treatment, zinc pyrithions which are an anti-yeast product, and selenium sulfide which can reduce scalp oil. Although tar is also effective, it may stain blonde hair, so this should be kept in mind.
If you are suffering from the double problem of dandruff and hair loss, you may be wondering what you can do to disguise the problem. A hair loss spray for men could be the perfect solution. A convenient and quick way to cover bald patches and to disguise white flakes while making the hair look fuller and thicker, it will help to improve your appearance so that your confidence can be restored once more.